Posbytz – A compliant e-invoicing software
Pro-businesses are always looking for the best software for a smooth and hassle-free procedure for generating and managing invoices. One of the best options is to go with Posbytz e-invoicing software which comes with all the features you need to get your business started in Saudi Arabia.

Request a Demo

E-invoicing Software >>
Free e-Invoicing Software in Saudi Arabia
Free e-invoicing software for Online store
Sell your products with our posbytz, free online invoicing store
Showcase your products and brand with our free online selling platform and start selling immediately.
Start now downloading the Free e-invoicing softwareFull integration between PosBytz Online Store & all point of sale systems makes inventory management easy. We can create coupons or use PosBytz Loyalty to offer a rewards program for online and in-person purchases. You can develop a zatca e-invoicing omnichannel strategy for your business to target customers more effectively, scale your business, and grow revenue.
Looking for a zatca e-invoicing software for your retail business? Know more about Retail Billing Software.
Try our Posbytz, Restaurant Online Ordering System e-invoicing software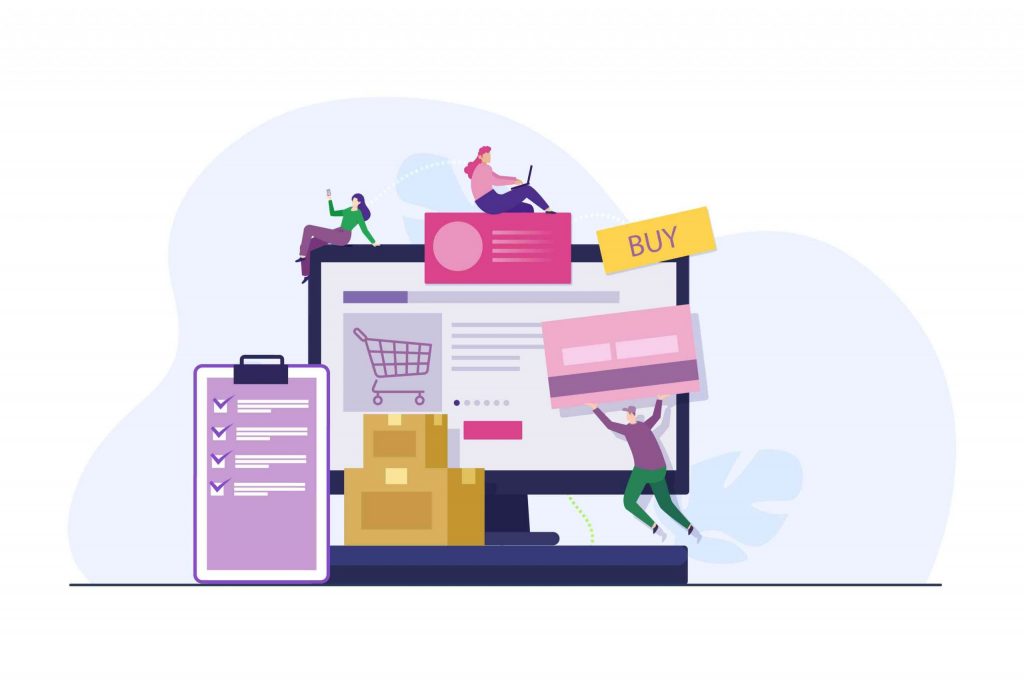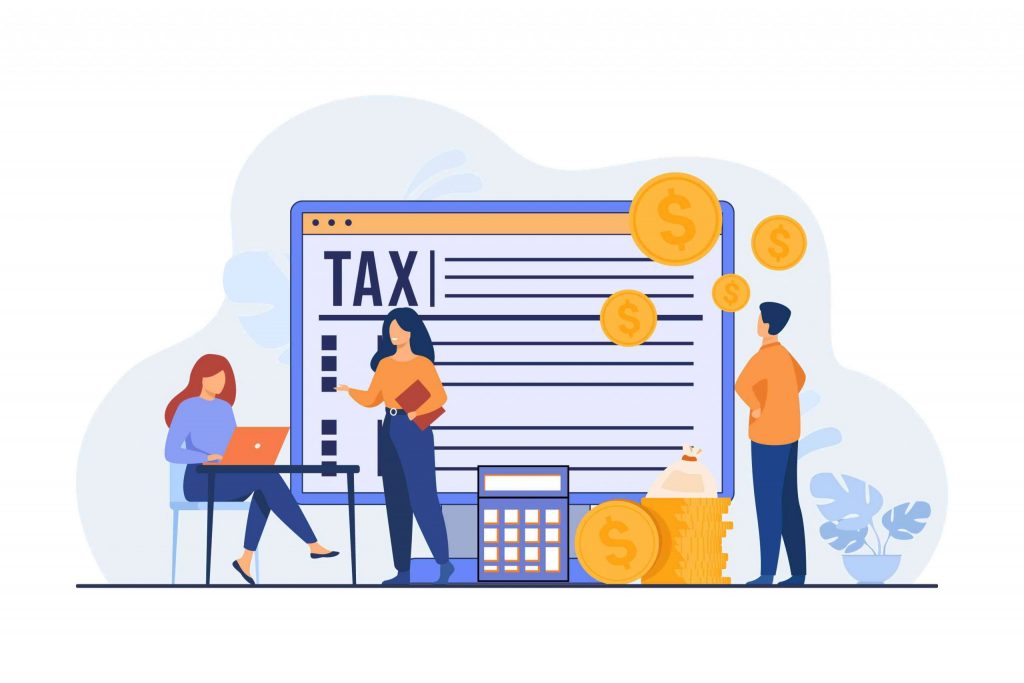 Posbytz – One-stop Solution for E-invoicing
As per Zakat, Tax and Customs Authority (ZATCA) mandates e-invoicing for all taxpayers in Saudi Arabia from December 4, 2021,
Every taxpayer is in need of software that helps them stay compliant with the new rules for electronic zatca e-invoicing in Saudi Arabia.Posbytz is a one-stop solution for ZAKAT-approved software compliant and designed to adapt to GAZT regulations.Posbytz, Trusted by great brands Over 5000+ businesses in 15 countries have registered with PosBytz.Get started for free – Register Now
Get complied with ZATCA e-invoicing- Posbytz
Posbytz, Omnichannel POS system is one of the top-in-class e-Invoicing software with Easy ERP Integration and is trusted by Over 3,000+ Businesses.From generating e-invoices instantly to storing and keeping track of them Posbytz, the top E-invoicing billing software in Saudi takes care of every little detail to bring you the most delightful experience. To know more about ZATCA e-invoicing in Saudi Arabia read more

Read More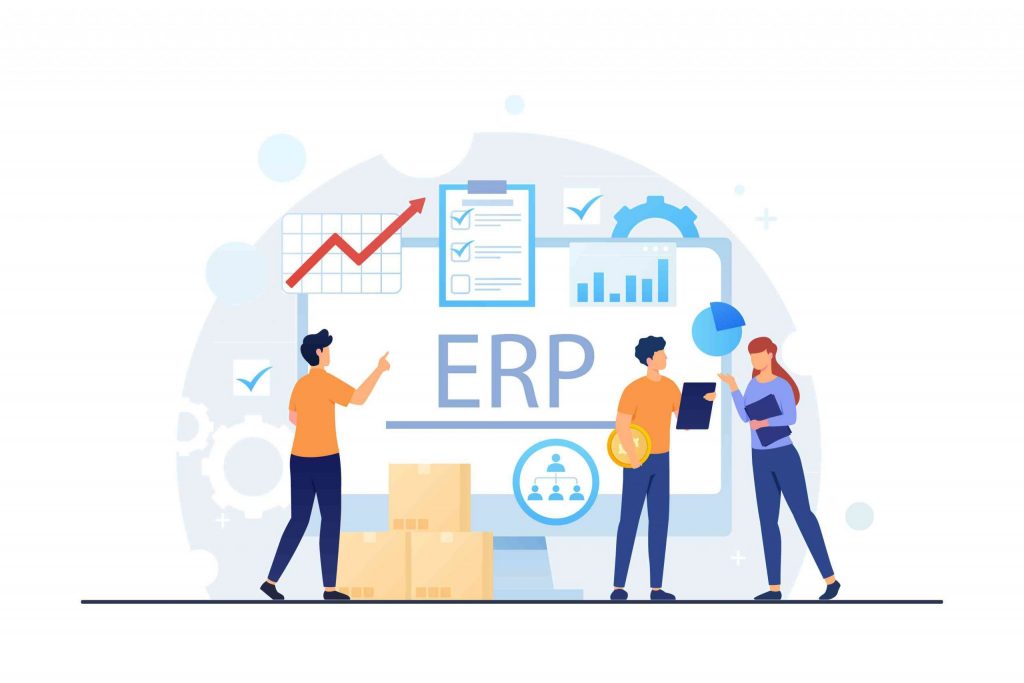 Features of ZATCA integration

Fast
Our solution is very light weight and quick to generate the xml invoices as per ZATCA format

Audit
As per ZATCA compliance , all transactions audit trials as per regulatory needs stored in the cloud.

Crypto Stamps
ZATCA compliance crypto signature and stamps

Data & security
Data will be governed by local cyber compliance and kept under the regulatory requirements.

Scalable
You can generate as many invoices as required for your business without any limitation & additional charges

ZATCA Approved e-invoices
ZATCA approved e-invoices for various transaction types – Sales , refund/returns , Void etc..,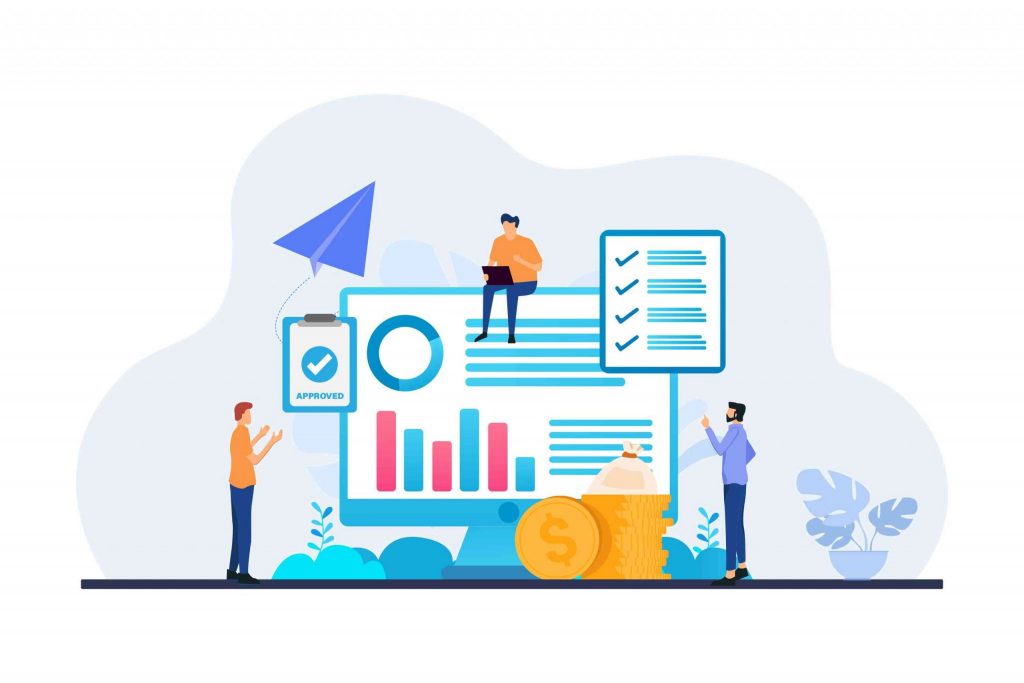 ZATCA approved POS for restaurant
Posbytz, electronic invoicing software helps you to run your restaurant business seamlessly from managing your inventory, table order taking, reservations, tips, payments, and much more. Let us customers relax and place orders with our branded Restaurant POS Software application.
Read our blog about Restaurant POS Software to know more about.
PosBytz is your restaurant POS software in Saudi Arabia to manage all your operations with ease from purchase, multi-channel sales, and reports. Our software supports Businesses of all sizes with our Restaurant POS, QSR POS, food truck POS, Van Sales POS, Cafe POS, Juiceshop POS, Lassishop POS, Chatshop POS, Cloud Kitchen etc.
Download now POS billing app for your Restaurant POS software business
Try our Posbytz, Restaurant Online Ordering System e-invoicing software
Get started with an online platform to sell products set up by your PosBytz online sales platform and sell across a website or social media, or marketplaces.
PosBytz's Grocery billing software is designed to manage all the activities like grocery shop billing, and inventory from a single POS system.
Accelerate your business with POS Software for your Vegetable Shop business with a comprehensive inventory, purchase and mobile apps. To know more go through Vegetable Shop POS Software.
Less Manual Intervention
Our ZAKAT-approved software is entirely automated and lets you decide when and how to act and track history and take control of your data.
Our e-invoicing system lets you track the history of all e-invoices generated in a specific time framePosbytz automated e-invoicing system prevents errors in your e-invoices and reduces the chances of rejections.Built-in transaction approval tools help users verify e-invoices and edit them by uploading correct invoices to the ZATCA Portal eliminating the chance of their rejection. You could connect 24* 7 with our experienced support team if you need assistance. In addition to making e-invoicing easy, our software solution also takes care of the financial accounting for your business.We can calculate VAT liability, and prepare VAT returns and audit reports where we can import bank statements and reconcile transactions without errors.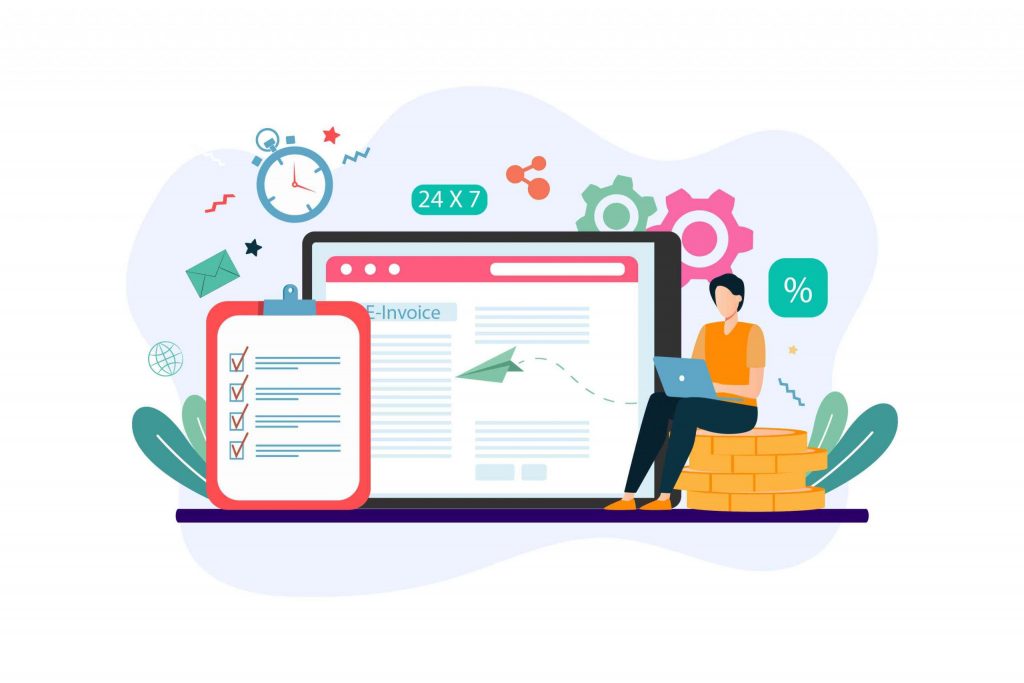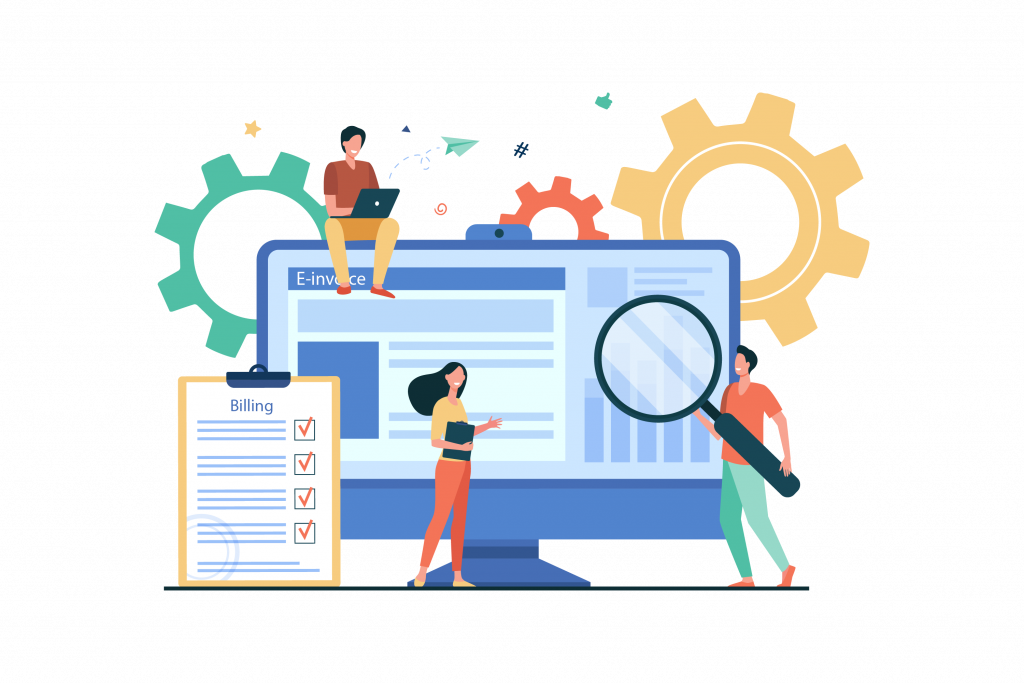 Simplified E-invoicing software for your Business Needs
Posbytz, E-invoicing billing software in Saudi makes invoicing process effortless. We can send customized statements to our clients and receive payments from different country currencies with our unified accounting software. To know more about reading our blog, E-invoicing billing software
Share Digital Invoice through Whatsapp
Create your customized e-invoices and associated electronic notes in A4 PDF format as well as e-invoice the invoice to customers using the integrated WhatsApp e-invoicing option.
Also, you can perform your sell using WhatsApp online to know more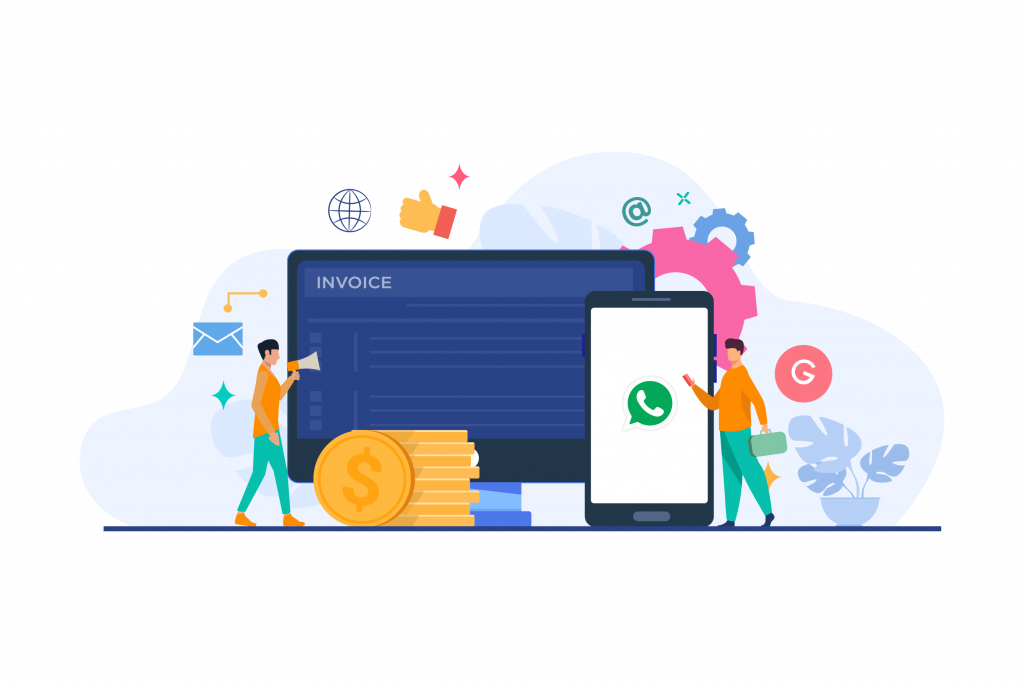 FAQ
Is e-invoicing mandatory in Saudi Arabia?
GAZT issued the final e-invoicing regulations in Arabic on 4 December 2020, so all the resident taxpayers are fully equipped to issue, save and modify e-invoices by 4 December 2021. For Phase 2, it is mandatory to be integrated with ZATCA einvoicing system by Jan 2023.
Is QR code mandatory for e-invoices in KSA?
QR code is mandatory for all e-invoices issued for B2B and B2C transactions in KSA
How can Posbytz help in the e-invoicing process?
Posbytz, E-invoicing billing software in Saudi helps you seamlessly manage all your incoming and outgoing invoices which will meet the current technical specifications for Saudi e-invoicing POS.
The main advantage of using our software provides the ability to keep track of your invoices and generate powerful insights. The added advantage of having ZAKAT approved POS makes your business operations simpler.